All my Freebielicious friends/authors are sharing some spring-y freebies with you today! Hop along our bunny trail and fill your baskets with lots of PK-1 fun for your students for this upcoming week.
I am not generally a fan of kids even talking about "bopping" anything on the head, but I love me some Little Bunny Foo Foo. So...I use Easter as an excuse to pull it out and have some fun with my kindergarten students. Here is how our Friday Fun morning went with my BFFs students and mine:
First, Mrs. S and I performed our very best rendition of Little Bunny Foo Foo. The children were in awe as Mrs. S stole the show with her stellar performance as the Good Fairy. Dressed in her very best Good Fairy garb, she wasn't going to let the little bunny get away with anything! When she turned me (the naughty bunny--he he!) into a "goon", one of our sweeties said, "Okay, now turn him back into a bunny." I love how they get so into us pretending, that they actually forget we are pretending.
I switched out the bunny for a duck (our best goon stand in) as we moved into our reading of one of my all-time favorite spring read alouds
Duck! Rabbit!
by Amy Krouse Rosenthal.
Is it a duck or a rabbit? Depends on how you look at it. This book is filled with humor as well as a subtle lesson for kids who don't know when to let go of an argument. So, in our everyday kindergarten-teacher fashion, Mrs. S and I "argued" (read the book) our parts. I say it's a duck, she says its a rabbit, and, in the end, we agree to disagree. It is such a fun book, written from a very unique perspective.
After our reading, we made the bunny/duck puppets with our students. They find this project magical in a sense because one side is a duck and the other is a rabbit and both have a cute, rhyming poem that tells the reader to turn it over to see the other animal. It is a perfect complementary activity with this book:
I am sharing with you, my readers, a miniature version of this puppet for your students (found further down this blog post) to enjoy along with the Duck! Rabbit! story and then, of course, we did some follow up writing. The students had to "argue" whether they thought it was a duck or a rabbit by writing a descriptive writing piece and attaching the corresponding animal to the top of their writing. Of course, many waivered back and forth (because it truly depends on how you look at it!) throughout the entire process. One even had his all written about a rabbit and then erased it all and changed his writing piece to be about a duck. It is really funny listening to them as they process through the "arguments". Here are a couple of examples:
Here is the free miniature version of the duck/rabbit "reversible" puppet with poems imprinted on the animals. Just have students color, cut and glue the 2 animals together and while gluing a popsicle stick between them.
Are you nervous about targeting the 3 types of writing required to be taught by Common Core Standards? This book is perfect to target any of the 3 areas. Use this book to encourage students to write their "argument" as to why it is a duck or why it is a rabbit.
Click on this picture for more info about my ready to go kit for implementation tomorrow.
Now head over to my fellow Freebielicious author Michelle's blog, Apples and ABCs and check out her incredible FREEBIE! Have fun hoppin' and fillin' up your baskets!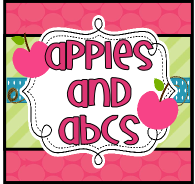 Be sure to follow Mrs. Miner's Kindergarten Monkey Business or LIKE it on Facebook (both available in left sidebar) so you never miss another FREEBIE or informative article.