When I look over the Kindergarten Common Core Standards, there is one particular one that is really getting to me simply because I see its huge benefit, but it doesn't show up blatantly in the curriculum yet and I want to figure out a way to creatively deliver this concept to my students:
K.OA.4.
For any number from 1 to 9, find the number that makes 10 when added to the given number, e.g., by using objects or drawings, and record the answer with a drawing or equation.
I also see how easily this could be implemented in your daily math routine OR into a neatly packaged unit for kinders. So, I had been tossing it around in my head for a few weeks and have recently been inspired by a couple of my blogging colleagues. First, Leslie from Kindergarten Works, posted a new calendar routine that she's been doing in her classroom. I loved it and immediately knew that it would be replacing my routine right away. I get bored quickly with calendar, but, knowing the importance of it, I change it up instead of abandoning it. I figure if I'm bored, imagine how the kids are feeling every time I start singing "Days of the Week"? So, go see Leslie and grab her FREE download to try out a different format of calendar by clicking on the picture below. You'll love it:
There is a page in it which focuses on 10 frames, so we've been building our automaticity this week with how many dots I make in the 10 frame and how many more are left to get to 10. They think it's a game, so I'm good with that. We are working towards standards and that's what counts, right?
Also, Mrs. Patton's Patch posted some free 10 frame flash cards, that would help us in working towards this standard. She also shared an interactive game (which will be perfect once my students realize that Leslie's pages are simply another version of calendar!). Click on either picture below to find these freebies: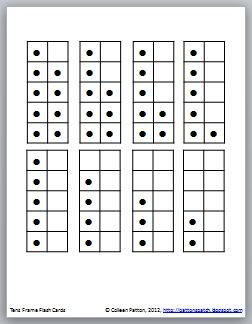 So, I was thinking how well our number writing fluency is going (you can grab my
Number Fluency Booklet free here
) and decided I would try to create a booklet to build automaticity with 10 frames. Well, when all was said and done, I ended up creating a mini unit that I will start next week.