I am so honored that Kerri chose my blog to give the Blog on Fire Award:
Now, my job is to reveal 7 things about myself and pass this on to 7 of my favorite blogs (now that's going to be hard to narrow that one down!).
Seven Facts About Krissy Miner You May Not Know
1. I used to teach 5th and 7th grade.
2. I have two awesome little boys ages 6 and 4.
3. My husband travels 1.5-2 hours back and forth to work every day.
4. I have (well....sorry...had) pigs and am getting chickens next year (not my favorite thing to do, but my it is something that I agreed to do when we moved out to the country PRE marriage).
5. I can get addicted to things very easily (nothing illegal, folks). My newest addiction?
Well, blogging, of course.
6. I have two awesome dogs. One is a big girl mix (German Pointer type) and one is an itsy bitsy Shoodle (Shitzhu/Poodle mix) who are best of friends.
7. I LOVE creating stuff...usually gifts for people, but also stuff for my classroom. If I could just create products and sTUff all day long, I'd be a happy girl!
7 Blogs I love...This is HARD. I have so many blogs that I love and go to for resources, advice and camaraderie. But, since Kerri had to choose only 7, I have to as well! So, here it goes (in no particular order, of course, I love you all the same):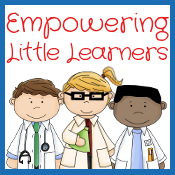 Lots of great ideas and resources shared here!
Chalk Talk was one of the first blogs I started following last year that began my blog stalking and, now, blogging addiction. Now, she is following me! Love it!
Resources in two languages, what a fantastic resource for ESL schools!
Everything is free! Now that is awesome...all top notch contributors with items sorted by grade levels.
I have always been a Kinderglynn fan, but now I am a Donna fan, too, now that I have started blogging! Her products are great and she always has great things to share on her blog.
This is brand, spanking new blog that you are going to want to follow. I have a feeling it is an up and coming thing in the blogosphere. We all know how few arenas are just dedicated to teachers of the itty bitties, and here it is....must follow!
I could have chosen this blog just because I love the blog button so much, BUT her blog is incredible, too! :)
Please visit Kerri as well as my 7 Blogs on Fire. I could have gone on and on about these blogs, as well as adding hundreds more. These blogs all make our lives easier and our teaching better, so remember to thank a blogger today (and tell them they are on fire!).