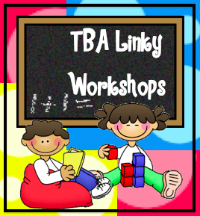 Starting the children writing in kindergarten is, let's just say, a challenge. My goal for the year is to make them LOVE writing and to make them so excited for WRITING WORKSHOP, so I don't want to scare my little kinders the first week of school by asking them to write, or even "drite" on a blank page when they are still trying to understand their new environment that comes with so many demands.
So, over the years I have figured out what works for me in my classroom to slowly get the children writing (without them even realizing it). In the process, I get to see what they know, what they are comfortable with and how they think.
I start the year with Color Days (watch for a post for more information and materials for this soon). We aren't so much learning the colors, since most of the students come knowing colors these days, but celebrating them and centering our daily activities and academics around the colors.
For writing, I simply give them a piece of paper that says A_________ is red.
We brainstorm a list of red things (great language check-in) and then I set them free to do their page. This is a "no-pressure" zone to start the year. If they want me to write the word for them, I quickly do so and allow them to draw it. If they want to copy from our list, I let them. If they seem eager to copy, but are having difficulty copying from the board, I will write it on a notecard in front of them. My goal is to simply ease them in and get them comfortable with the tools we have and my expectations of them sitting in their seats to do work.
Once all of the pages are done, you can put them together, plop a RED cover (I will be posting these later) on them and Voila! you have your first class book. But, wait, the next day you will "write" another book and so on until all colors are done. Since you are sticking with the same template and the same expectations for several days in a row (we all know repetition builds confidence and eagerness--two important things in beginning writing), you will get tons of information and a progression in the work produced by your students.
Here is my Color Days writing book as a free download. Like I said, I like to make a colorful collection of books for each color day, but youc an also make an individual book for each child if you would rather (that might be more appopriate for the older students). I hope you enjoy this "Slow Introduction to Colorful Writing" with your students!