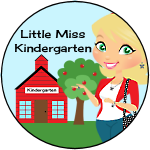 is having a great linky party and I thought I'd join in the conversation. She wants to know how we make transitions smooth in the kindergarten classroom (does that really ever truly happen?). Well, it actually can with consistency and a bag of tricks.
I use A LOT of music (an i touch and docking station from donorschoose.org is the key!), counting down, positive reinforcement, basically everything you all use. But, you really have to gage which trick to pull out and when to do it, if you want your students to respond to you regularly.
My favorite attention grabbing trick in my bag comes from Whole Brain Teaching. You say class in some silly way and the children respond back with yes in the same manner. It is so silly and fun that there isn't a child who isn't willing to participate. Here is an example:
Me: Oh, class, class, class!
Them: Oh, yes, yes, yes?
or
Me: Classity, class, class, class!
Them: Yessity, yes, yes, yes?
or
Me: Classy, classy, classy, class!
Them: Yessy, yes, yes, yes?
You have to say them out loud to get the full picture. Then, you have to picture children stopping whatever they are doing to make their response chorally. It is awesome and works EVERY SINGLE TIME to grab their attention. If this grabs your attention, go ahead and check out
their website here.
To join in the linky party, click on Little Miss Kindergarten's button blog at the top of the post.